I have just received these fantastic teaching resources based on the entire series of JJ books. They have been developed by Rowena Simmons and her team the Academies Enterprise Trust, to whom I owe a great debt of thanks. Whilst they have been constructed with Secondary Schools and the National Curriculum in mind, there are more than enough ideas here for some great lessons in Primary Schools too. As the books seem to have the ability to engage pupils that might be hard to reach, I would be so happy if schools are able to utilise the JJ series as part of their teaching and class discussions. So here they are… Please recommend to other schools and any networks of which you are a part and let me know what you think.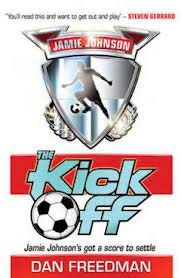 The Kick Off
The start of Jamie Johnson's football career. He's got so much to prove, The pressure's on, but has Jamie got what it takes?
View in Amazon
Shoot to Win
Jamie's got everything to play for  – scouts from top clubs are coming to watch him play! This is his big chance and he can't wait to show off his latest move but the new coach is bearing a grudge…Has Jamie missed his chance?
View in Amazon
Golden Goal
There's a massive buzz around Jamie Johnson. His dreams of becoming a professional footballer seem to be coming true. But, just when he seems close to living the dream, a shocking event turns his world upside down…
View in Amazon
Man of the Match
Jamie Johnson is fast becoming the most popular player in the country. He's playing the best football of his career for his beloved Hawkstone. But life at the top of the league isn't as easy as it seems..And Hawkstone are about to sign a new winger…
View in Amazon
World Class
It's the big one! The World Cup Finals beckon for Jamie Johnson but first he must answer a huge question: Which country will he play for? With brand new characters and more jaw-dropping footy action, Dan Freedman and Jamie Johnson return on very top form.
View in Amazon
Final Whistle
This was the team of teams. The club of clubs. And now they wanted him to join them." A transfer to the best club in the world beckons for Jamie Johnson. This is big. This is huge! However, a time bomb is already ticking within Jamie…Is the final whistle about to blow?  
View in Amazon
Skills from Brazil
Before the packed stadiums. Before the international play. Before the bright lights. Jamie Johnson had to learn to play from the best. Jamie is in his last year of primary school and loves being the best footballer in school. He's the only one that could possible lead the students to victory in their annual game against the teachers.